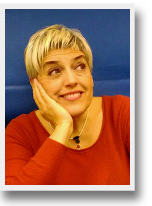 Welcome to my website!
My name is Patrizia Cavalletti, I work as a freelance PR agent, running my own Public Relations consultancy and services agency, the "Patrizia Cavalletti Comunicazione".
I started back in 1981 working for Ellesse, a leading sportswear manufacturer, until 1988.
In 1989 I created my own company "Eventi di Patrizia Cavalletti", renamed as of July 2008 "Patrizia Cavalletti Comunicazione": I work with public bodies, foundations, associations and private companies all over Italy.
I'm specialized in creating, organizing and managing culture and music events and art exhibitions/shows; media relations; organizing different types of events (from conferences to congresses, from seminars to board meetings, from weddings, private events to services for your leisure time) and elaborating communication projects.
I write newspaper articles and other publications, I regularly participate as docent in specialization and training courses and I'm often invited to lecture at conferences.
From 1989 to 2011 I have been a member of FERPI Federazione Relazioni Pubbliche Italiana - GLOBAL ALLIANCE for Public Relations and Communication Management.
The idea of using my name as a trademark does not stem from excessive self-esteem or a lack of creativity, but fully reflects my philosophy: my clients are guaranteed I assume full responsibility for delivering the requested results. Despite of my long career, I'm still driven by enthusiasm, dynamism and creativity for my work.
Thanks for your attention, best wishes.
Patrizia Cavalletti